Did NCAA Go Too Far with Oregon Marijuana Suspensions? – Bleacher Report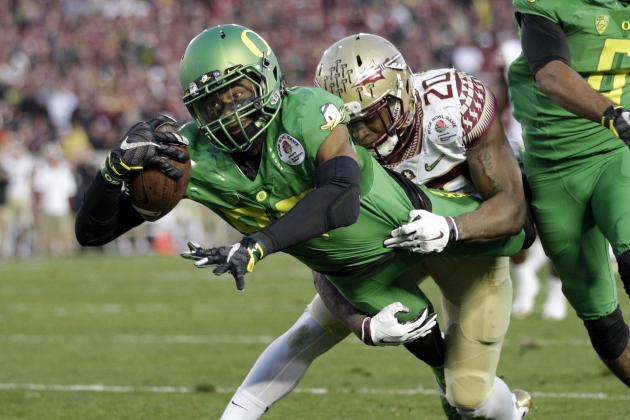 Jae C. Hong/Associated Press
Oregon quarterback Marcus Mariota's receiving options will be limited in Monday night's national championship against Ohio State. That's been a shorthanded group all year. However, the latest attrition to the Ducks' wide receiver unit isn't because of injury or bad luck.
According to Aaron Fentress of CSNNW.com, second-leading receiver Darren Carrington failed an NCAA-administered drug test for marijuana and did not travel to Arlington for the title game. Pete Thamel of Sports Illustrated later reported that running back Ayele Forde will also miss the game because of a failed drug test for marijuana.  
The Ducks will already be without Devon Allen, who led the team with seven receiving touchdowns, because of a knee injury. 
How should the NCAA view its policy on marijuana?
"Darren's my friend," said Allen to Pat Forde of Yahoo! Sports. "I love that guy and it sucks that he can't play and the NCAA made an example out of him."
There's no debate that Carrington and Forde are in the wrong, even though Oregon, along with Alaska, is set to legalize marijuana for recreational use by this year. (Recreational use is already legal in Colorado and Washington.) They used it and got busted for it. As a result, they won't be able to help their team. That part is as black and white as it gets. 
Where things get cloudier, so to speak, is whether the NCAA should re-examine its testing policy. (Additionally, each school has its own drug policy; Oregon specifically has a four-strike policy.) The NCAA's threshold for a positive marijuana test is five nanograms of THC, the primary ingredient in marijuana, an NCAA spokesperson told Thamel. That's far lower than the NFL and MLB: 
The easiest way to quantify how strict the NCAA's threshold is: Compare it to the threshold from other sports. The NFL increased its minimum threshold from 15 nanograms to 35 in September. The MLB's minimum is 50 nanograms, the same level as airline pilots. The World Anti-Doping Agency set its minimum at 150 nanograms, a level at which an expert contacted by USA Today was quoted as saying, "[one has to be a] pretty dedicated cannabis consumer" to test positive.
Is the NCAA being too strict when it comes to pot? Comparing it side-by-side to other major sports, amateur or professional, would indicate that it is. Easing up on the THC threshold for future tests feels like a logical next step. 
The question is how long will it take for NCAA's stance on the matter to catch up with society's stance. 
How marijuana is viewed is changing, both nationally and within the scope of college athletics. Specifically, it's not tied to enhancing on-field performance. If it doesn't affect the game in the way performance-enhancing drugs do, there's not a lot of incentive to care what someone does in their spare time. 
In that way, marijuana use is joining the ranks of underage drinking and even impermissible benefits on the "Who cares?" scale. 
There are roadblocks for actual change, however. NCAA legislation, even with upcoming voting autonomy for Power Five conferences, can take eons to pass, if it passes at all. Given that this would be a push to liberalize punishment recreational drug use, widespread support from admins could be hard to garner. 
Furthermore, there are front-burner issues that need to be addressed like player safety, well-being and compensation. 
But at some point, the NCAA will no longer be able to delay changes in how it views and discourages marijuana use. Loosening the threshold for testing marijuana wouldn't be an admission that pot, or other harder drugs, is OK. It wouldn't be a stance from the Association that pot should be legal. 
It would, however, be an admission that the testing policy was out-of-date—and it is. Change is something the NCAA needs if it's going to remain college athletics' governing body. Until then, there will be more and more guys like Darren Carrington who get suspended for an antiquated policy. 
Ben Kercheval is a lead writer for college football. 
– Click Here To Visit Article Source