LaMarcus Aldridge wrote a thank-you letter to Portland fans – CBSSports.com
By James Herbert | NBA writer
July 5, 2015 12:56 AM ET

LaMarcus Aldridge announced on Saturday afternoon that he would be leaving the Portland Trail Blazers to sign with the San Antonio Spurs, and in the evening he wrote a nice thank-you letter to his fans in Portland, via the Oregonian's John Canzano:
Dear Rip City, Thank you!

Those two words on a page don't begin to express the gratitude I have for the opportunity the entire Trail Blazers organization, my teammates, the media, and you fans gave me. The past nine years have been a blessing, and I will take all of the valuable memories with me as I head back home.

As I'm sure you can respect, my decision was a very personal one but not one I took lightly. Although I will be wearing a different uniform the next time I come back to Portland, please know that I will always hold my time in a Blazers uniform near and dear to my heart.

Your friend, LA
It'll be interesting to see how Aldridge is received when he goes back to Portland. On the one hand, he played nine years for the Blazers, developing into an All-NBA player and scoring more points than anybody in franchise history not named Clyde Drexler. He's also the team's all-time leading rebounder. On the other hand, he said last summer that he wanted to be "the best Blazer ever" and intended to re-sign on a five-year deal, then he went to San Antonio. That might have been general manager Neil Olshey's idea, though.
Usually, fans aren't exactly kind to stars who leave like Aldridge did. It should be noted, though, that he is joining arguably the best organization in sports, going back to his home state of Texas and teaming up with a future Hall of Famer he's long admired. It probably wasn't easy to decide to leave Portland, but you can't blame him for wanting to play with the Spurs.
Also, you have to like how he signed off as "Your friend," right?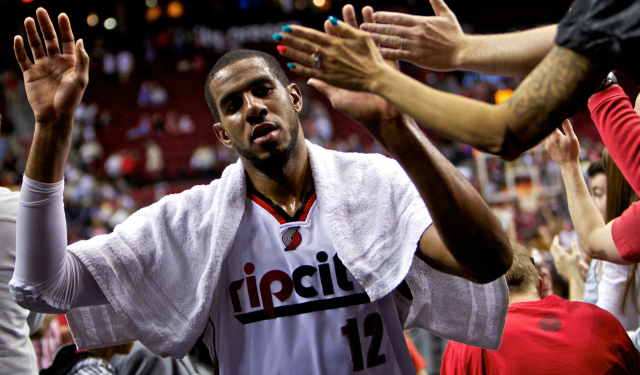 div.fyre-comment-divider {margin: 0px;}
.fyre .fyre-comment-article .fyre-comment-wrapper time.fyre-comment-date {position: relative; top: -16px;}
.fyre .fyre-comment-replies-indent {margin-left: 0px; padding-left: 62px;}
.fyre .fyre-comment-source-13 > .fyre-comment-divider.fyre-divider-active > div.fyre-comment-divider, .fyre .fyre-comment-source-13 > .fyre-comment-divider.fyre-comment-collapse > div.fyre-comment-divider, .fyre .fyre-comment-divider.fyre-divider-active > div.fyre-comment-divider, .fyre .fyre-comment-divider.fyre-comment-collapse > div.fyre-comment-divider {margin: 0 0 0 62px;}
/*
.fyre .fyre-notifier-container {left: 0px !important;}
*/
.fyre .fyre-stream-stats:before {
border-color: #0B0B3B transparent transparent #0B0B3B;
border-image: none;
border-style: solid;
border-width: 5px;
content: " ";
height: 0px;
left: 10px;
position: absolute;
top: 26px;
width: 0px;
}
.fyre .fyre-stream-stats {
border: 1px solid #000000;
width: 45px;
top: -37px;
/*left: 593px;*/
position: relative;
border-radius: 2px 2px 2px 2px;
color: #FFFFFF;
background-color: #0B0B3B;
float: right;
}
.fyre .fyre-comment-like-btn {
background-image: -moz-linear-gradient(100% 100% 90deg, rgba(181, 190, 196, 0.4), rgba(245, 247, 247, 0.4) 54%);
border: 1px solid #B5BEC4;
border-radius: 3px 3px 3px 3px;
color: #939393;
font-family: 'Droid Sans',arial,serif;
font-size: 12px;
font-weight: normal;
opacity: 0.6;
padding: 3px 6px;
text-shadow: 0 1px 0 rgba(255, 255, 255, 0.75);
text-transform: none;
}
.fyre .fyre-comment-like-btn:hover {
background-image: -moz-linear-gradient(100% 100% 90deg, rgba(181, 190, 196, 0.4), rgba(245, 247, 247, 0.4) 54%);
border: 1px solid #B5BEC4;
border-radius: 3px 3px 3px 3px;
color: #939393;
font-family: 'Droid Sans',arial,serif;
font-size: 12px;
font-weight: normal;
opacity: 0.6;
padding: 3px 6px;
text-shadow: 0 1px 0 rgba(255, 255, 255, 0.75);
text-transform: none;
}
.fyre .fyre-comment-reply {
background-image: -moz-linear-gradient(100% 100% 90deg, rgba(181, 190, 196, 0.4), rgba(245, 247, 247, 0.4) 54%);
border: 1px solid #B5BEC4;
border-radius: 3px 3px 3px 3px;
color: #939393;
font-family: 'Droid Sans',arial,serif;
font-size: 12px;
font-weight: normal;
opacity: 0.6;
padding: 3px 6px;
text-shadow: 0 1px 0 rgba(255, 255, 255, 0.75);
text-transform: none;
}
.fyre .fyre-comment-reply:hover {
background-image: -moz-linear-gradient(100% 100% 90deg, rgba(181, 190, 196, 0.4), rgba(245, 247, 247, 0.4) 54%);
border: 1px solid #B5BEC4;
border-radius: 3px 3px 3px 3px;
color: #939393;
font-family: 'Droid Sans',arial,serif;
font-size: 12px;
font-weight: normal;
opacity: 0.6;
padding: 3px 6px;
text-shadow: 0 1px 0 rgba(255, 255, 255, 0.75);
text-transform: none;
}
.fyre-stream-stats .fyre-comment-count span {text-align: center; width: 45px; color: #FFFFFF;}
.fyre .fyre-login-bar {top: -35px; font-family: "proxima-nova",verdana,sans-serif;}
.fyre .fyre-editor-toolbar .goog-toolbar > div.fyre-post-button {filter: none; background: #0B0B3B !important; background-color: #0B0B3B !important; background-image: none !important;}
.fyre .fyre-editor-toolbar .goog-toolbar > div.fyre-post-button .fyre-button-right-inner-box {color: #FFFFFF; text-shadow: 0px 0px; #FFFFFF}
#lf_login_buttons {position: relative; top: 5px; left: -6px; z-index: 4999;}
#lf_comments_label {display: none; float: right; right: 55px; position: relative; top: 48px; font-size: 18px; font-family: "proxima-nova",verdana,sans-serif;}
#customButtonCtr {height: 50px;}
.fyre .fyre-comment-actions a.fyre-delete-link {display: none;}
/* durations */
.fyre time.fyre-comment-date {margin-right: 5px; color: #888888;}
.fyre .fyre-comment-head, .fyre .fyre-comment-body {margin-left: 0px !important;}
.fyre .fyre-comment a.fyre-comment-edit {padding: 0px;}
.fyre .fyre-editor-toolbar > .goog-toolbar > .fyre-post-to .fyre-button-right-inner-box {background: url("https://sports.cbsimg.net/images/livefyre/post-to-sprite_birdyv1.png") no-repeat scroll left top transparent; color: transparent; height: 14px; width: 18px;}
.fyre .fyre-editor-toolbar > .goog-toolbar > .fyre-post-to-facebook .fyre-button-right-inner-box {background-position: -19px 0; width: 12px;}
.fyre .fyre-editor-toolbar > .goog-toolbar > .fyre-post-to-facebook .fyre-post-to-selected {background-position: -19px -19px; width: 12px;}
.fyre .fyre-editor-toolbar > .goog-toolbar > .fyre-post-to-twitter .fyre-button-right-inner-box.fyre-post-to-selected { background-position: 0 -19px; }
#getScreenName {display: none; font-family: "proxima-nova",verdana,sans-serif; font-size: 15px; color: #3E3E3E; position: relative; top: 36px; z-index: 4999;}
#getScreenName a:link {color: #3E3E3E;}
#getScreenName a:visited {color: #3E3E3E;}
#getScreenName a:hover {color: #3E3E3E;}
.fyre .fyre-stream-more .fyre-stream-more-container {background-color: #0B0B3B; background-image: none; }
.fyre .fyre-stream-more .fyre-stream-more-container .fyre-text {font-family: "proxima-nova",verdana,sans-serif; font-size: 15px; color: #FFFFFF; font-weight: bold;}
.fyre .fyre-stream-more {background: none;}
.fyre .fyre-editor-container {top: 5px !important;}
#fbLoginDiv {position: relative; top: -4px; left: 0px;}
#googlesignin {position: relative; top: -2px; left: 0px;}
.fyre .fyre-user-loggedout {font-family: "proxima-nova",verdana,sans-serif;}
.fyre .fyre-editor .fyre-editor-toolbar .goog-toolbar>div {font-family: "proxima-nova",verdana,sans-serif;}
.fyre .fyre-stream-sort {font-family: "proxima-nova",verdana,sans-serif;};
.fyre .fyre-comment-head, .fyre .fyre-comment-body {font-family: "proxima-nova",verdana,sans-serif;};
]]>
"
}
//console.log(customStrings.signIn);
callFBApi = function() {
var accessToken;
var uid;
//CBSi.injectJS('//connect.facebook.net/en_US/sdk.js#xfbml=1', 'facebook-jssdk');
/*
FB.init({
appId : '297742330311988',
oauth : true,
version: 'v2.3'
});
*/
FB.getLoginStatus(function(response) {
if (response.status === 'connected') {
handle_fb_response(response.authResponse);
}
else{
FB.login(function(response) {
if (response.authResponse) {
handle_fb_response(response.authResponse);
/*
uid = response.authResponse.userID;
accessToken = response.authResponse.accessToken;
//CBSi.log("== FB APP DATA ==", response);
FB.api('/me', function(social) {
//CBSi.log("== FB USER DATA ==", social);
log_in_socially(social.name, social.username, 'fb');
document.cookie = "lf_social_info=|FB|; expires=0; path=/";
});
*/
}
});
}
});
};
handle_fb_response = function(authResponse){
uid = authResponse.userID;
accessToken = authResponse.accessToken;
FB.api('/me', function(social) {
//CBSi.log("== FB USER DATA ==", social);
log_in_socially(social.name, social.username, 'fb');
document.cookie = "lf_social_info=|FB|; expires=0; path=/";
});
}
log_in_socially = function(dn, userid, site) {
$.ajax({
url: "/data/common/livefyre/lf_social_login",
dataType: 'json',
data: {
lfdn: dn,
lfuser: userid,
ssite: site
}
}).done(function(profile) {
//CBSi.log("== Social Login ==",profile,site);
if (profile.error) {
//CBSi.log("Social login failed with error: ", profile);
return null;
}
else {
document.cookie = "lf_social_login="+ profile.socialsess +"; expires=0; path=/";
profile.socialsess = '1';
userObj = profile;
lf_user_profile = profile;
doLivefyreAuth(profile);
}
});
};
callTwitterApi = function() {
window.open('/common/livefyre/V3/via_twitter?debug=32′,'twitterOauth','width=600,height=500,menu=0,status=0′);
};
callTwitterApiHidden = function() {
var arr1 = readCookie('lf_social_info').split(/|/);
log_in_socially(arr1[2], arr1[3], 'twitter');
hasProfile = 1;
}
function doLivefyreAuth(cval) {
//console.log("== Attempting LF Login ==",cval);
var isLoggedIn = 1;
if (cval) {
try {
fyre.conv.login(cval.token);
} catch (e) {
isLoggedIn = 0;
}
}
}
changeDOM = function() {
// DOM hacks. Change the UI for the dropdown box
//console.log("== Running Dom Hacks ==");
if (isLoggedIn == 1){
//console.log("== Checking Match ==");
if (hasProfile == 0) {
//CBSi.log("== adding get comment link ==");
// They need a screen name
//$('.lf_auth_section a.lf_user_loggedout').html('Get a Screen Name to Comment').addClass('loginLink');
$('.fyre .fyre-user-loggedout').hide();
$('#getScreenName').show();
var screenNameContent = 'Get a Screen Name to Comment';
$('#getScreenName').html(screenNameContent);
}
/*
else {
if (typeof userObj.profile.profile_url != 'undefined'){
if (userObj.profile.profile_url) {
//CBSi.log("== adding login profile links ==");
$('.fyre .fyre-box-wrapper a.fyre-user-profile-link').attr('href',userObj.profile.profile_url);
$('li.fyre-edit-profile-link').html('Edit Profile');
}
}
}
*/
}
changedDom = 1;
//console.log("== finished dom hacks ==");
};
function updateCommentCounts(element,count){
//CBSi.log("== updating comment counts ==");
if (count == 1){
$(element).html('' + count + '   |  Comment');
$(element).show();
$('.commentsCountLabel').html('comment');
}
else{
$(element).html('' + count + '   |  Comments');
$(element).show();
$('.commentsCountLabel').html('comments');
}
$('.commentsCount').html(count);
}
function removeLfError(){
$('#cbsLfError').remove();
}
var authDelegate = new fyre.conv.RemoteAuthDelegate();
authDelegate.login = function (handlers){
');
handlers.failure();
}
else{
removeLfError();
handlers.success();
}
};
function updateAuthorLinks(){
$('.fyre-comment-username').each(function() {
$(this).click(function() {
window.location.href = $(this).attr('href');
});
});
$('.fyre-comment-author').each(function() {
$(this).click(function() {
window.location.href = $(this).attr('href');
});
});
}
function updateOneLineComments(){
//console.log("Checking Comments");
$(".fyre-comment-wrapper").each(function() {
if ($(this).find(".fyre-comment").css('display') != 'none'){
var commentText = $(this).find(".fyre-comment").html();
if (commentText != null){
var loopCtr = 0;
// for IE8
while ( (commentText.indexOf("
",' ');
loopCtr++;
}
//console.log(commentText);
$(this).find(".fyre-comment").css('display','none');
$(this).find(".fyre-comment-head").append(commentText);
} // end check for blank text
}
//console.log("Checking Height");
cntHeight = $(this).find(".fyre-comment-head").height();
if (cntHeight > 0){
//console.log("Setting Height");
cntHeight = -1 * ((cntHeight / 2) + 12);
$(this).find(".fyre-flag-link").css('top',cntHeight);
}
});
}
function change_profile_link(){
$(".fyre .fyre-box-list .fyre-edit-profile-link a").attr("href",'#');
$(".fyre .fyre-box-list .fyre-edit-profile-link a").attr("alt",");
$('.fyre .fyre-box-list .fyre-edit-profile-link a').click(function() { return false; });
$('.fyre .fyre-box-list .fyre-edit-profile-link').remove();
$(".fyre .fyre-comment-head .fyre-comment-username").attr("href",'#');
$(".fyre .fyre-comment-head .fyre-comment-username").attr("target",");
$(".fyre .fyre-comment-head .fyre-comment-username").attr("alt",");
$('.fyre .fyre-comment-head .fyre-comment-username').click(function() { return false; });
$('.fyre .fyre-comment-head').each(function() {
var alltxt = $(this).html();
var nickname = $(this).find('.fyre-comment-username').html();
if (!(nickname == null)){
alltxt = "
– Click Here To Visit Article Source