Mark Helfrich to Blame for Oregon's 2015 Struggles – Bleacher Report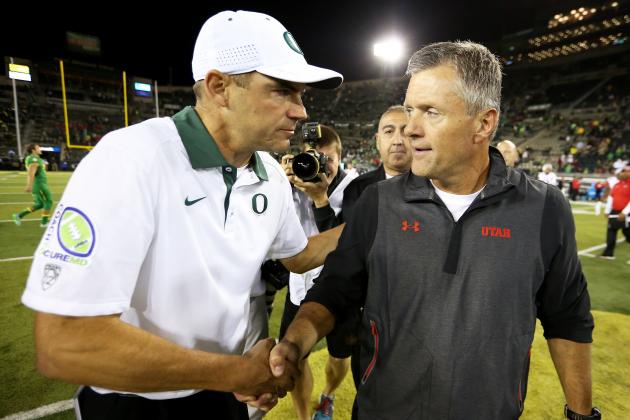 Ryan Kang/Associated Press
In his first year without the best quarterback in college football, Oregon head coach Mark Helfrich has lost two games in four tries, the worst of which came Saturday in a humiliating 62-20 defeat to Utah.
It's the first time since 2004 Oregon has lost two games before October, and although myriad factors have contributed to those struggles and there is more than enough blame to go around, Helfrich is the one who bears the brunt of it.
"When you played like we played, it's on me," Helfrich said Saturday, per Anne M. Peterson of the Associated Press.
That's the only thing he got right all night.
The biggest problem Saturday (other than the score) was how noticeably un-Oregon everything felt and looked.
The confident, explosive, regimented culture former head coaches Mike Bellotti and Chip Kelly built in Eugene was absent on both sides of the ball.
Even before Saturday's performance, Matt Moscona of ESPN Radio in Baton Rouge, Louisiana, had compared Helfrich with Larry Coker, the former Miami head coach who inherited barrels of talent from Butch Davis in the early 2000s.
After the most stunning result of the season, he won't be alone.
Mark Helfrich at Oregon vs. Larry Coker at Miami

| | | | | |
| --- | --- | --- | --- | --- |
| | 2013 (1) | 11-2 | 2001 (1) | 12-0 |
| | 2014 (2) | 13-2 | 2002 (2) | 12-1 |
| | 2015 (3) | 2-2 | 2003 (3) | 11-2 |
| | | | 2004 (4) | 9-3 |
| | | | 2005 (5) | 9-3 |
| | | | 2006 (6) | 7-6 |
| | | | 2007 | FIRED |
Source: Sports-Reference.com
It's premature to call Helfrich "Oregon's Coker," but it's not too early to compare them. Oregon has looked that dreadful in 2015.
Utah led 62-13 after 50 minutes Saturday, pummeling the Ducks into submission the way Oregon usually obliterates teams from lesser conferences. 
The Utes outclassed Oregon in all three phases, but none stood out so much as their defense against Oregon's offense. A sad-sack combination of Vernon Adams and Jeff Lockie combined for 12-of-27 passing, 165 yards, two touchdowns and two interceptions.
Kelly made a routine of developing quarterbacks. He won with Jeremiah Masoli; when Masoli left, Darron Thomas proved a seamless replacement; when Thomas left, Marcus Mariota became an overnight star. There was no transition period between them.
Helfrich inherited Mariota, rode him and the rest of Kelly's players to a pair of Pac-12 Championships, earned a big extension this offseason and entered the year with high expectations. This was his first chance to prove he also, like Kelly, does not need a transition period.
He ostensibly proved his worth the past two seasons, showed he could take what he learned as Kelly's offensive coordinator and stay the course without him. But Saturday threw all of that into question.
And then it started to answer: No he can't.
Losses such as Saturday's endure. They stick with coaches for years and sometimes decades.
Say the words "Dennis Franchione" in College Station, Texas, or Norman, Oklahoma, and time how long it takes, even 12 years later, for someone to hop out of the bushes and mention 77-0.
Helfrich lost by fewer points, but trailing 62-13 as a double-digit home favorite is the equivalent of losing 77-0 on the road against the No. 1 team in the country, as Oklahoma was when it beat unranked Texas A&M in 2003.
This loss was just as catastrophic.
On a scale of 1-5, how hot is Helfrich's seat at Oregon?
In Helfrich's defense, Oregon did come one overthrown deep ball short of upsetting Michigan State in East Lansing two weeks ago. That performance cannot be ignored.
But using that in Helfrich's defense is troubling for two reasons: (1) Michigan State is 0-4 against the spread this year, so it's not even like the Spartans are playing that well, and (2) Oregon has come far enough as a program that losses—moral victories—should never be used as its coach's best defense.
In his fourth game without Mariota and the upperclassmen Kelly left him, Helfrich coached his team to the worst loss in modern Oregon history and the most points it has ever allowed at home, according to Pac-12 Networks.
That is not a good way to climb out of your mentor's shadow.
It is, however, a good way to land on the hot seat.
– Click Here To Visit Article Source