Ohio State Football: 5 Bold Predictions for the Buckeyes vs. Oregon – Bleacher Report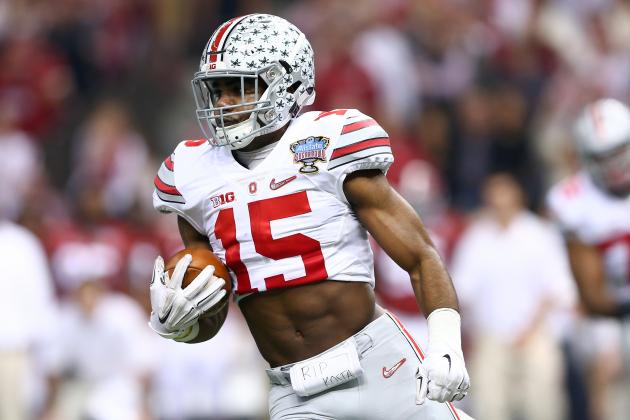 Streeter Lecka/Getty Images
Urban Meyer and the No. 4 Ohio State Buckeyes are set to take college football's biggest stage to battle second-ranked Oregon in the College Football Playoff National Championship Monday night. 
The Ducks, guided by Heisman Trophy-winning quarterback Marcus Mariota, are favored by 6.5 points, according to Odds Shark. But the Buckeyes are getting comfortable in the underdog role—they've won both of their last two games against Wisconsin and Alabama, despite facing significant odds.
Can Ohio State pull another upset to win a national title? Here are five bold predictions for the Buckeyes ahead of their big matchup with the Ducks.  
Ezekiel Elliott Will Break 220 Rushing Yards for the Third Straight Game
In the Big Ten title game against Wisconsin's second-ranked total defense, Ezekiel Elliott broke out for 220 rushing yards and two touchdowns on just 20 carries. With a similar workload against Alabama's top-ranked rushing defense in the Sugar Bowl, he tallied 230 yards and another two scores.
He'll be even better against Oregon. The Ducks' bend-but-don't break defense will create some big opportunities for Elliott, who could break 250 rushing yards for the first time in his collegiate career on Monday.
Ohio State Will Pick Off a Marcus Mariota Pass
Mariota has been the most efficient quarterback in the country this season mainly because he takes such good care of the ball. The junior signal-caller has only thrown three interceptions in 408 pass attempts, and he's thrown at least three touchdowns in half of Oregon's games this season.
The Buckeyes will fluster him into throwing at least one interception.  
Safety Vonn Bell will grab his seventh interception of the season against Oregon Monday night.
Ohio State ranks fourth nationally with 24 interceptions. The defense picked off Blake Sims three times in the Sugar Bowl after he threw just seven interceptions all season. Expect the Buckeyes to get another one against Mariota. 
Cardale Jones Will Have Twice as Many Rushing Yards as Marcus Mariota
When Ohio State is on offense, Cardale Jones will need to be patient against Oregon, which routinely keeps two safeties deep to prevent the big play. That will require Jones to check a lot of his throws down and, many times, get what he can on the ground.
Jones was, surprisingly, heavily involved in the run game against Alabama, tallying 17 rushes for a net gain of 43 yards. He'll have a similar number of rushes against Oregon, but he'll have much more success as the Ducks will struggle to get him to the ground.
On the other side of the ball, Ohio State will attack Mariota from the edges in an effort to contain his playmaking ability. That will limit his production on the ground, and Jones will double his output.
Ohio State Will Blitz More Than It Has All Season
Last year's Ohio State defense drove Meyer crazy because of its lack of aggressiveness. The zone schemes that allowed teams to waltz up and down the field a year ago have been abandoned for pressure packages and man-to-man looks. 
Against Oregon, expect Ohio State to put its defensive backs on an island and send the house against Mariota.
Darron Lee will turn in another big performance against Oregon.
That will lead to a few big plays for the Ducks, but Meyer won't let his defense sit back and get picked apart by the Heisman Trophy winner. Ohio State will use a lot of movement along the defensive line and send linebacker Darron Lee off the edge in an effort to disrupt Mariota.
Devin Smith Will Catch the Go-Ahead, Game-Winning Touchdown
Devin Smith has made a number of big-time catches during his time at Ohio State, but the biggest one of his career will come late in the fourth quarter against the Ducks.
Trailing by four with under three minutes to go, Ohio State will get within striking distance before Meyer calls for a deep pass to his senior wideout. Without Ifo Ekpre-Olomu on the other side of the ball, Smith will burst past his defender and haul in a 35-yard touchdown to put the Buckeyes back on top for good. 
Ohio State's defense will hold, securing a 41-38 victory to win the national title.
All stats via NCAA.com and Bleacher Report research.
David Regimbal covers Ohio State football for Bleacher Report. Follow him on Twitter @davidreg412.
– Click Here To Visit Article Source