The new ganjapreneurs: welcome to Oregon's hip marijuana dispensaries – The Guardian
You might expect someone running a pot dispensary to have few reservations about legalising marijuana in Oregon, but Lauren Terry is of two minds. "As a manager, I think this business will probably be fine. As a patient, I worry about new taxes. I worry about growers."
Terry knows the business inside out. But like many working at the retail end of the industry, and many patients, she is nervous about how Salem will reconcile the coming world of legalised recreational sales with Oregon's large, innovative medical marijuana industry.
Brooklyn Holding Company, the brand-new venture where Terry works, is a marker of the industry's developing sophistication. The look of Portland's first "theme dispensary" has been painstakingly curated. The day we spoke, Terry was wearing a white brocade dress and a flapper-style headband made from tiny mirrors held together with crocheted wool. Her genial, moustachioed boss, dispensary co-owner Jeff Myers, hovered nearby in a bowler hat. Before he realised his dispensary dream, he was a blue-collar tradesman. Today he and Terry look like they just stepped out of a sepia-toned photograph.
Both are at the forefront of a new generation of "ganjapreneurs" dragging marijuana retailing out of its tie-dye-and-rasta rut and into the retail and cultural mainstream.
The shop itself is a mash-up of decorative idioms from the turn of the 20th century to the 1930s; it's a similar vibe to the one favoured by other Portland hipster institutions. One state over in Vancouver, Washington, the big recreational dispensaries can have an antiseptic feel; Myers is betting that Portland's fastidious consumers will appreciate his store's blend of locavore authenticity and studied historical artifice. He's not just selling pot – he is selling an experience, and it's one that is in keeping with the rest of the city's "artisanal economy".
In the entrance hall, where medical marijuana cards are checked and growers received, a portrait of Oscar Wilde hangs above a Queen Anne chaise longue. The dispensing room – where customers can choose from a wide range of Oregon-grown buds, oils and extracts – features gilt pattern wallpaper and custom fittings made from local timbers. Crackling Jazz Age records round out the vintage ambience.
But by describing the new business as a "speakeasy" and thereby evoking the prohibition era, the new business is being knowingly edgy. Despite successful legalisation ballots in Washington, Colorado, Alaska and Oregon, and despite the permissiveness around medical marijuana throughout most of the American west, pot prohibition is still with us. Over the past few years, medical pot retailers were first tolerated, then regulated in Portland. But as far as the federal government are concerned, Myers, his employees and even his landlords are breaking the law whenever they open their doors.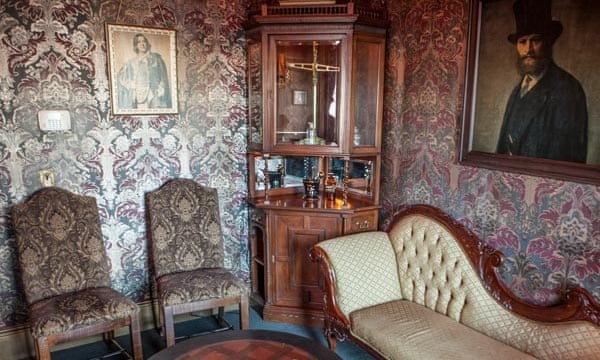 Special agent Matt Barden of the Drug Enforcement Administration (DEA) is unambiguous: "To have anything to do with growing, selling or using marijuana is a federal crime, and we don't get to pick and choose which laws we enforce."
Now based in Washington DC, Barden worked in the field in Colorado after that state legalised. The Department of Justice (DOJ) has issued a series of memos to guide enforcement and prosecution in states that have followed this path. In line with that advice, Oregon's US attorney Amanda Marshall has also confirmed that, for now, they won't be prosecuting those acting within state laws. This means that the DEA is also letting things lie. But none of that gives the pot industry carte blanche; in Colorado, Barden pursued pot growers and sellers who ignored the guidelines.
Barden has seen DOJ attitudes shift with presidential administrations, and it's possible that they will change again. Anyone involved in the marijuana industry is taking a "huge, tremendous risk – they're putting themselves, their children, in harm's way". Whatever they may have invested, "they're endangering their livelihood, and prosecution is still simple in other states".
Back in Portland, Myers is well aware of this. He can never quite convince himself that the "DEA won't one day decide to raid me". "If they did," he says, "it would be us that would be going to prison."
The maturing consumer market for pot belies the fragility of the truce between state and national governments, whose laws are at odds with one another. Federal laws mean that many firms have to work on a cash basis, because banks fear federal action.
On top of this yawning contradiction, Myers has built a business with a high-tech heart. He tracks inventory, supplies and accounts with a state-of-the-art accounting system. Terry shows me some of the detailed lab reports on the produce he sells, each of which runs to several pages. Above the counters are point-of-sale monitors showing which strains are in, how much THC they contain and the quantities available. Myers beams as he talks about the "college kid" he found to adapt this system from the software used in dozens of brewpubs around Portland. "He's a genius. I told him, 'I want to be the first to invest in your company – you're gonna go somewhere.'"
On top of measures around surveillance and quality control, dispensaries have to be at least 1,000ft from schools and from one another. The new rules led to a lot of dispensaries go under last spring; some were too close together, others were taking too many liberties. The Oregon Health Authority forcibly closed one for its "egregious" conduct, which included employees smoking bowls in the back room.
Tech contractors are not alone in indirectly profiting from the sale of marijuana. "You gotta talk about the parallel industries as well," says Myers, citing vibrant subsectors marketing, weed-focused publishing and software design. He contracted designers, tradespeople and technicians in putting his operation together, an effort that he admits was not cheap.
The investment is proportional with the potential windfall, though: Terry says that even middling dispensaries in the city are making "a million dollars a year". Myers claims that the scale of the industry and its reach into parallel sectors mean the industry is "keeping the state's economy afloat". Even scientists are getting on board – at Portland start-up Physios Bioscience, they're mapping marijuana's genome and trying to understand the evolution of different strains, with a view to standardising marketing and labelling.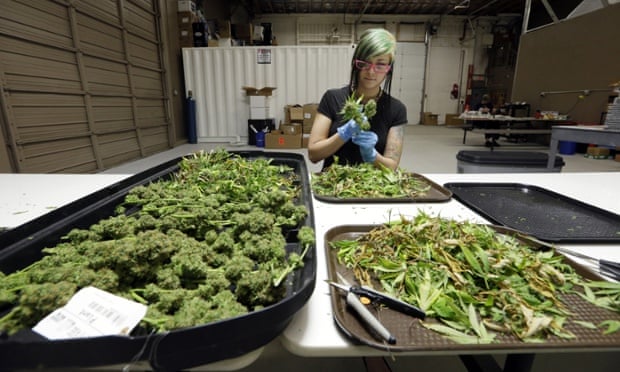 Growers from areas of southern Oregon that have been depressed for a generation or more are making real money from selling their crop. Terry talks about "average Joes walking in with a duffle bag full of weed" and making up to $2,400 a pound.
And then there are dispensary employees, who have some of the best-paid retail jobs in America. "Budtenders" can expect to earn $15 to $20 an hour. Twentysomething Terry says that, as a result, "a lot of my friends, you know, liberal arts graduates, can afford to pay their rent and not worry". In the most gentrified city in America, which is increasingly unaffordable to the young creatives who made it cool, this is no small thing.
Serious out-of-state money is also chasing the opportunities that pot is promising. Emily Paxhia, a founding partner at "cannabis hedge fund" Poseidon Asset Management, offers "high-net-worth individuals" a chance to cash in on the boom occasioned by changing laws and a growing consumer market. To invest with San Francisco-based Poseidon, you need to be an "accredited investor", and to qualify as an individual you need to have earned $200,000 or more for both of the past two years, or have a net worth of $1m.
In other words, Paxhia is selling the pot proposition to the 1%.
Last year she got her investors returns that "far exceeded equity markets". Though she hasn't directly invested any money in Oregon yet, she can't wait: "Portland and many of the towns in Oregon are very progressive and on the cutting edge, with an emphasis on sustainability, so we expect to see some great creativity and innovation out of that area." Poseidon is focussed on "the ancillary components of the industry – we like everything around growing efficiency, technology, biotech, real estate, packaging and design." For now, at least, "big pot" outfits like Paxhia's are not investing in growing or in stores, rather in the equipment they will need for the next phase of growth.
Dispensaries weren't envisioned in the 1998 ballot measure that legalised medical marijuana in Oregon, which only talked about patients, caregivers and growers. Voters rejected a measure to institute them in 2010. Two years later, however, majorities in many Oregon counties backed an initiative to fully legalise pot, even though it failed at the state level. Longtime Oregon marijuana activist Paul Stanford, who wrote the 2012 ballot initiative, says that was when prosecutors in Portland knew they had "a political problem". They stopped going after dispensaries, and police gradually allocated resources elsewhere. And in late 2013, the state congress legalised dispensaries, in effect giving its blessing to what was already happening.
By 2014 there were hundreds of dispensaries throughout the state, and beyond the need to accept only registered patients and growers, they were being allowed to operate without oversight.
Terry says those years taught her "what a free market looks like. Patients were deciding who survived and who didn't, and it was based on quality." As a result, patients can now buy "the best weed on the west coast" for as little as ten bucks a gram.
However, things tightened up after the Oregon senate approved regulation. It's no longer possible to simply open a storefront and start selling, and the regulations mean that new players need more start-up money. But it hasn't stopped them queuing up, and the rules actually offer a perverse kind of protection from federal enforcement. Many retailers are hoping to get in the box seat to become recreational dispensaries, and Myers, of Brooklyn Holding Company, is no exception. "Best case," he says, "is that the state just lets us start selling recreational pot alongside medical pot in this store. Worst case, they tell us that all the rules have changed and we have to shut down, or start again."
What no one wants is a repeat of the missteps made north of the Columbia River. In Washington, recreational marijuana is steeply taxed at several points: growers and retailers pay a levy, and buyers also have to pay sales tax. The medical sector has been allowed to persist in its original, unregulated form, while recreational dispensaries cannot share premises with medical ones. The result is that medical dispensaries can afford to sell weed for far less than recreational shops, sometimes for as little as half the price.
It has created an industry at loggerheads with itself, with recreational stores complaining that they are being undercut, and medical providers accusing the recreational businesses of trying to destroy the culture that sustains them. After this chaotic start, the rules are being rewritten.
Stanford says he is "pretty confident" that Oregon will learn from Washington's mistakes, and allow medical and recreational marijuana to be sold side by side. But he also adds that nervous retailers need to "learn to lobby – they need to get on the phone to their congressman, they need to make it happen". A political action committee has been set up for growers which has hired lobbyists to bend ears in Salem. One of the things they will be seeking is the clarity that retailers are missing.
Right now, though, legalisation feels more like a beginning than a conclusion. The tension between state and federal laws, between medical and recreational sectors are still very much in play. Myers thinks that things will only be resolved when "someone goes up through all the courts of appeal, and state laws are upheld".
He just hopes that it does not fall to his prohibition-themed dispensary to expose all the contradictions in marijuana prohibition.
– Click Here To Visit Article Source